He's in the army now! Being all a doll can be!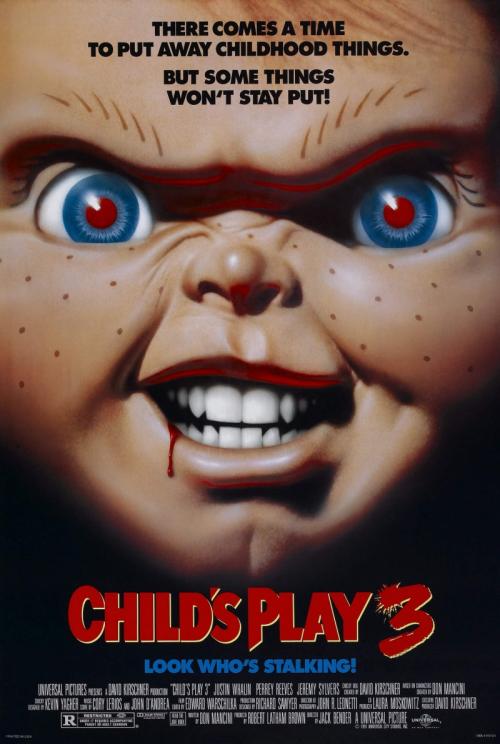 At the end of "Child's Play 2", Chucky was a sloppy pile of melted plastic. The factory closed and the production of the Good Guy dolls stopped.
Now eight years later, Play Pals Inc. starts production of the dolls again since it was always their biggest seller.
Chucky's blood is mixed into the new batch of plastic as the factory is cleaned up.
Little Andy Barclay (Justin Whalin) has all grown up. He is now in military school and trying to put the past behind him.
He gets into a relationship with another cadet Kirsten (Entourage's Perrey Reeves) and all seems fine until Chucky mails himself to the school.
The Chucky sequels just keep getting more ridiculous and this entry is pretty comical.
Chucky's one-liners like "Don't fuck with the Chuck" or "Presto! You're Dead" remind me a lot of the old Arnold Schwarzenegger one-liners.
The kills really aren't even clever and part of the plot movement is that the Chucky doll just keeps getting left around the school.
There is tons of just silliness of the movie and Chucky is starting to emerge into a cartoon version.
Besides Dourif's once again amazing Chucky voice, my favorite performance in the film was Andrew Robinson (Hellraiser). His military school barber character was hysterical.
This concludes the "Andy Trilogy" of the series as the next entries more focus on evolving Chucky and his evil brood. After witnessing Child's Play 3 you can really see why they needed to reinvent the series to sustain it's appeal.
2 out of 5
So Says the Soothsayer